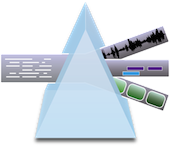 ChronoViz
Visualization of Time-based Multimodal Data
What is ChronoViz?
Visualize your data
ChronoViz is a tool to aid visualization and analysis of multimodal sets of time-coded information, with a focus on the analysis of video in combination with other data sources.
Want to see some examples? Look at the overview video or screenshots below.
Active research
ChronoViz is in active development by Adam Fouse, in the Distributed Cognition and Human-Computer Interaction Laboratory at the University of California, San Diego.
When you start ChronoViz, you will be asked whether we can record your interactions. The data recorded is anonymized and includes movement (in time) through the data, where you create annotations, and how you configure visualizations. These logs are automatically uploaded on a weekly basis. You can change the settings for this data logging in the ChronoViz Preferences window.
How do I get it?
To download ChronoViz, please click the link below. Before you download, please consider signing up for the ChronoViz mailing list. This will be used to notify you of future updates.
Stay updated
Learn how to use it
For information on getting started with ChronoViz, please go to the ChronoViz Quick Start Guide. This should answer most of the basic questions about how to use ChronoViz.
Download ChronoViz 2.0.2 (3.6 MB)
Overview Video
Example Screen Shots
Acknowledgements
Support for this project was partially provided by NSF Grant 0729013, "DHB: A Multiscale Framework for Analyzing Activity Dynamics".